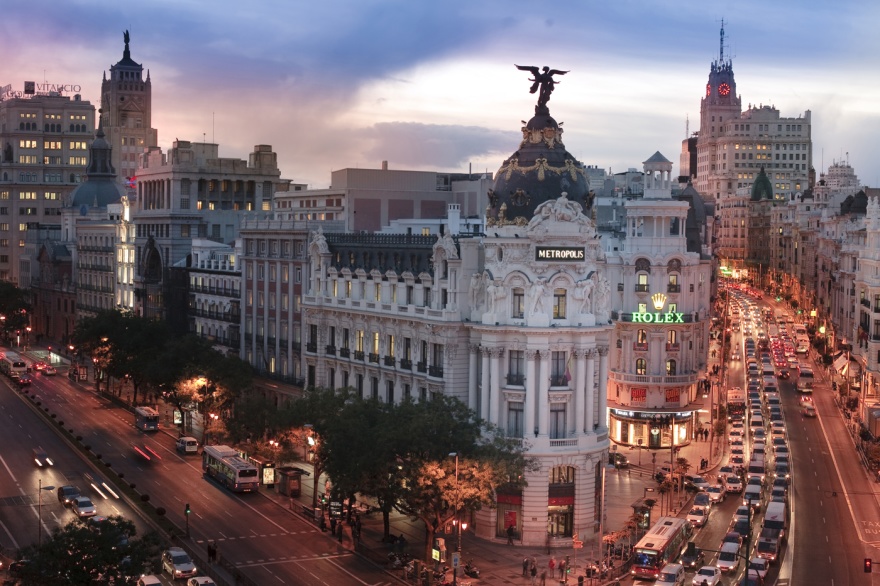 Madrid is not only the capitol of Spain but it is the hub of the entire Spanish-speaking world. Dialects from the former Spanish colonies mix with the five official languages and all these different groups have put their mark on what is considered the unique Madrid culture. You might find the city chaotic at first, however, the friendliness of the inhabitants is disarming and soon you will feel like a Madrileño mingling casually in one of the cosy bars in the moor quarters or enjoying the tranquillity of the park El Retiro

The architecture is breathtaking and diverse. You will find everything from magnificent monuments from past times, to narrow alleys in the La Latina quarter, once shabby and poor, now a thriving district for artists and bohemians. For the culturally interested, there are over 70 museums, with The Prado Museum, with its exquisite art collection, as the jewel in the crown.

Travelling to other parts of Spain makes Madrid an excellent starting point. The city is the junction for Spain's top-modern high-speed trains and practically every part of the country can be reached within a few hours.

Let us not forget about football, or the people of Madrid would never forgive us! The city has two top teams in the top league, the big brother Real Madrid and the hot-tempered derby opponent Atlético Madrid, each with its own five star stadium. Matches between these two teams, is an experience. Sportingly first and foremost, the Spanish league is considered one of the best in the world. Furthermore, the atmosphere and the engagement of the fans is remarkable. The only thing that would top this would be a visit to the Santiago Bernabéu, the home turf of Real Madrid, for El Clásico, the mother of all football matches, for a battle between Real Madrid and FC Barcelona. Old and new deviations of opinion will come up to the surface, however handled in a very sportsmanlike fashion, and the fans outdo themselves with songs, fireworks and honking cars, hours before the start of the match.